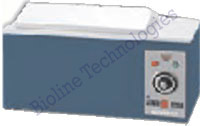 Serological Water Bath
Our system incorporates multiple Devices such as in line process Indicators, environment scanners and temperature or humidity controllers. Long life Low Maintenance Calibration And Protocol Documentation Versatile usage Ergonomic Design Energy Efficient. Provides cable for direct interface to any dot matrix or laser printer for online or online data records printing. It has Bulk data storage capacity with high data retention life. Facility to obtain nicely formatted print our of the logged data or records with proper headers. Our system provided facility to program recording interval with various options to suit individual requirements. It is provided with the feature to adjust or select baud rate for any serial communication port. Our system is provided with user friendly custom developed software which obtains and analyzes the data and facilitates the user to generate reports and graphs etc.
CONSTRUCTION DETAILS SEROLOGICAL WATER BATH

Our serological water baths are double walled convection heated units. Outer body of our serological water baths is constructed out of thick PCRC steel sheet, duly pre-treated with primers for rust proof and painted with air drying paint/stove enamel/powder coating. The inside chamber of the unit is made of heavy gauge stainless steel sheet of grade ss-304. The unit is provided with top opening cover, made of stainless steel with steel concentric rings. The unit is provided with one stainless steel racks.

HEATING

Indirect heating system is provided in our serological water bath, comprising of air heaters made of high grade Kanthal A-1 wires of suitable wattage. The temperature is evenly distributed throughout the chamber through natural water convection mechanism, ensuring a very good temperature sensitivity.

TEMPERATURE RANGE

Temperature range of our standard serological water bath models are 5º c above ambient to 90º c. However we have the capacity to modify the same to suit the individual specialized requirements of our customers.

TEMPERATURE SENSITIVITY

Temperature inside our serological water bath is controlled with a sensitivity of + 0.5º c or better.(With PID Controller).
FRONT PANEL

Front panel of our serological water bath comprises of on/off switches heating and mains indicator lamps and temperature controller.

DATA ACQUISITION AND CONTROL SYSTEM FOR SEROLOGICAL WATER BATH-optional

SAILENT FEATURES

TEMPERATURE CONTROL

Temperature Sensitivity ± °C 0.5 or better, Deviation In Temperature ± °C 0.5
Temperature range °C 5°C above ambient to 90°C (Standard)
Temperature Sensor PT-100.Temperature Controller Solid State digital Controller/PID optional. Safety Thermostat for safety.
Display LED/LCD .Adjustable alarm limits Optional With PID controller only.

ACCESSORIES-OPTIONAL

Timer (999 mins) optional,Program (Real Time) optional
Data Acquisition Program optional.Serial Port (Printer) RS232C optional

SHELVES

Internal Dimensions mm Standard

Model –JWB14 300mm x 250mm x 175mm (2 racks) 14 ltr
Model –JWB-18 330mm x 300mm x 175mm (4 racks) 18 ltr
Model-JWB 25 455mm x 300mm x 175mm (4 racks) 25 ltr
Model-JWB 32 605mm x 300mm x 175mm (8 racks) 32 ltr

POWER CONSUMPTION
Nominal power W 500 -650
Nominal voltage V 220-230 Volts, 50 Hz Single Phase
Frequency Hz 50
Long life Low Maintenance Calibration And Protocol Documentation
Versatile usage Ergonomic Design Energy Efficient Equipment.